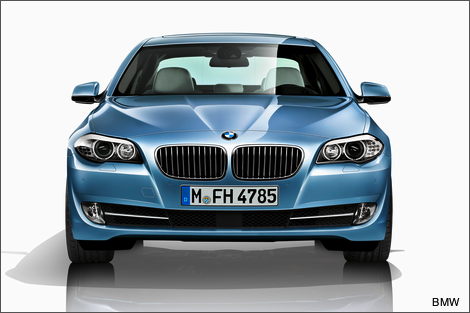 BMW's 5-series range will be expanded to include this hybrid version in February 2012. The ActiveHybrid 5 is said to offer 535i-style performance but with 16% better fuel economy and emissions.
The ActiveHybrid 5 has a 306PS, 3.0-litre turbo petrol engine, a straight-six unit from BMW's TwinPower family, mated to an eight-speed automatic gearbox. Integrated into the gearbox housing is an electric motor, which generates up to 54PS and 210Nm, drawing power from a lithium-ion battery mounted between the rear wheel housings. Together, the engine and electric motor can generate a maximum 340hp and 450Nm of torque, and the hybrid BMW can travel 2.4 miles in electric-only mode, at speeds of up to 37mph. At speeds of up to 100mph the BMW ActiveHybrid 5 is capable of cruising with the engine off until the driver accelerates.
Under acceleraton, the electric motor assists the petrol engine, resulting in a 0-62mph time of 5.9sec, the same as the 535i. But the hybrid car returns much better fuel consumption, with a combined figures of 44.1mpg and CO2 emissions of 149g/km.
An intelligent energy management system, integrated into the BMW Professional satnav system, analyses route data to sense when the driver's requirements are likely to change. Using this information, all the powertrain systems and on-board electronics are pre-prepared to make the most efficient use of the energy available.
The BMW ActiveHybrid 5 will make its global debut at the Tokyo Motor Show on November 30. It goes into production at Dingolfing in January 2012 and will be on sale in the UK from February 25, priced at £46,860.